Technical Training Workshop on Ocean Renewables
As part of continuous efforts to increase the capabilities of ocean renewable energy stakeholders in the region, ERI@N together with Sustainable Energy Association of Singapore (SEAS) and Ocean pixel Pte. Ltd., has organized a training workshop on Ocean Renewable Energy for new entrants in the Southeast Asian marine and offshore energy market.
This workshop was held as part of the pre-conference events of the Asian Wave and Tidal Energy Conference (AWTEC 2016). ERI@N closely worked with the two partners as its technical lead on identifying the right topics and ocean energy experts to speak during the three-day workshop. The workshop was well attended by local small to medium enterprises (SMEs) in marine/offshore industry with interest in expanding their capabilities to ocean renewable energy. In addition, there were also participants from different Southeast Asian countries who are mostly the experts or currently doing the ocean renewable energy activities in their respective countries.

ASIAN WAVE AND TIDAL ENERGY CONFERENCE (AWTEC) 2016
The Asian Wave and Tidal Energy Conference (AWTEC) has been established as the regional conference affiliated with the European Wave and Tidal Energy Conference (EWTEC) series to facilitate the transnational and regional sharing of knowledge and understanding from research of wave and tidal renewable energy systems, their interactions with the environment and the identification of barriers to establishing the marine renewable energy industry.
Energy Research Institute @ Nanyang Technological University (ERI@N) was chosen to be the host of the 3rd AWTEC 2016 conference series. ERI@N, together with Sustainable Energy Association of Singapore (SEAS), organized AWTEC 2016 was well attended by more than 350 attendees, including researchers, engineers from industries, techno-economists, policy makers and stakeholders. The conference was rich with 11 invited plenary speakers, 31 technical sessions with over 168 oral papers and 30 poster presentations that helped in rich exchange of knowledge through profound discussions that promoted international and multi-disciplinary collaboration. The conference spanned to a week of events including preconference training workshops, three technical session days in the famous Marina Bay Sands venue (Singapore) and the last day of the week was dedicated to two technical tours (NTU Eco Campus and Floating Tidal Turbine Platform at LitaOcean Shipyard).
The conference drew support from 15 industry sponsors and had 11 exhibit booths during the conference where companies had the opportunities to display their technologies and expertise to the public. AWTEC 2016 was also supported by different embassies (Scotland, through Scottish Development International, Canada and The Netherlands) and intergovernmental organizations, like the ASEAN Centre for Energy (ACE).
Among the major achievements of the AWTEC 2016 are:
MoU signing between OceanPixel and Aquatera;

DP Energy entering South East Asian Marine RE Market;

Envirotek, OceanPixel, Schottel Hydro, NTU, Aquatera (with support from Braemar Offshore, DHI, and ITP) progresses Tidal Demo Project for Singapore (~$500k);

Green Forest Product and Technology Pte Ltd with PT BUMWI, in collaboration with Schottel Hydro, OceanPixel, Aquatera, and NTU announces Successful commissioning of a tidal turbine grid-connected pilot project in West Papua, Indonesia (~$500k);

Over 30 companies from Europe (UK, Ireland, Germany), Canada, Japan, China, Australia participated in AWTEC 2016:
- some notable names: Atlantis, DCNS, OpenHydro, WavePower, Albatern, Carnegie Wave, Schottel Hydro Scotrenewables,
NovaInnovation, AW Energy, DP Energy, Tocardo;
- Local: Braemar Offshore, Fugro, DHI, Lita Ocean,

Continuous support form ASEAN Centre for Energy (ACE) towards Southeast Asian Collaboration for Ocean Renewable Energy (SEACORE);

SEACORE-SEAMEC (Southeast Asian Marine Energy Centre) Collaboration.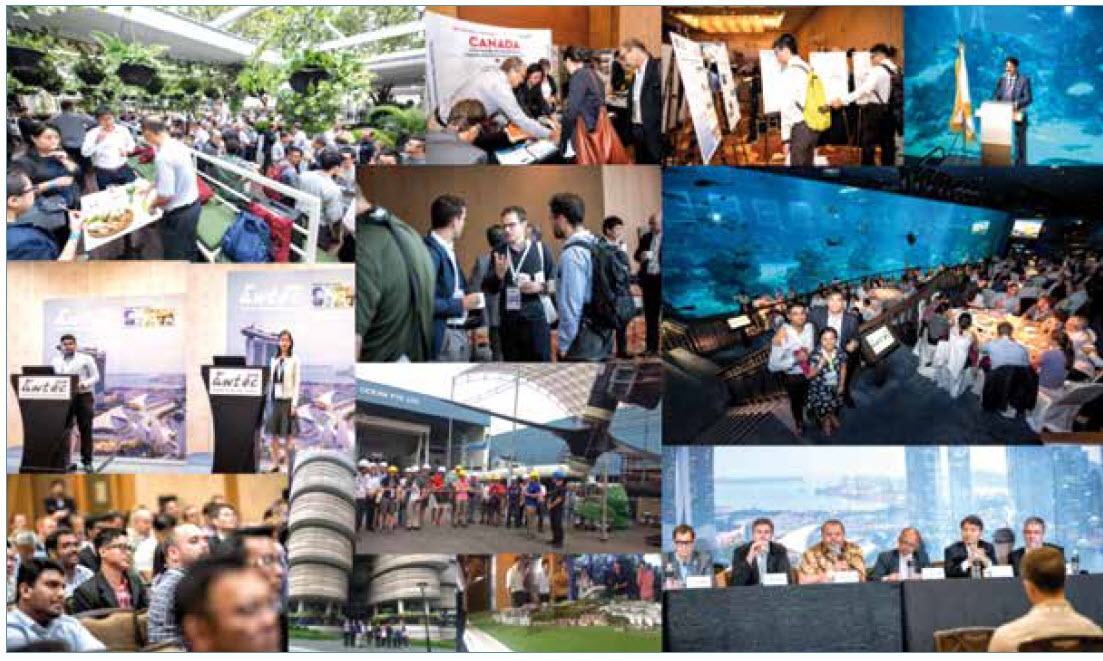 Asian Wave and Tidal Energy Conference (AWTEC) 2016.