INTRODUCTION
The IEA Technology Collaboration Programme on Ocean Energy Systems is one of the collaborative R&D Programmes established within the IEA, and since its establishment in 2001, the OES participants have been conducting a variety of joint projects. During 2016, the Executive evaluated the achievements of its present 5-year term that will end up in February 2017 and prepared a new Strategic Plan for its 4th 5-year mandate (2017 – 2022).
The End of Term Report and new Strategic Plan were submitted to the IEA and presented by the Chairman in the Renewable Energy Working Party meeting in Beijing, China (17 -18 October 2016).
2016 was marked by the entry of three new members: India, France and the European Commission. On the other hand, Australia, after being inactive for 2 years, withdrew the OES, but with a strong hope to soon re-join and to make efforts to identify the appropriate entity to represent the Government in the OES.
At the end of 2016, OES has 25 members, which provide a broad international base of information, sharing experience and knowledge and further a diversified representation of interests: members are from governmental departments, utilities, universities and research organizations, energy agencies and industry associations. This is one of the benefits of joining OES: participants gain an international perspective on ocean energy issues, opportunities and present challenges.
The OES international co-operation facilitates:
Securing access to advanced R&D teams in the participating countries
Developing a harmonized set of measures and testing protocols for the testing of prototypes
Reducing national costs by collaborating internationally
Creating valuable international contacts between government, industry and science
Information sharing and networking
This Executive Summary provides a brief summary of the 2016 OES Annual Report. It synthesizes the main achievements in the OES collaborative activities and presents relevant policies and projects by each OES member country. As in previous years, this Annual Report includes a contribution by acknowledged experts from testing centres. Representatives from 5 open sea test centres (EMEC/UK, FORCE/Canada, Oregon/USA, Nagasaki Marine Industry Cluster Promotion Association/Japan and BIMEP/Spain) have been invited to respond to a few questions related with the role of these test centres, difficulties and opportunities.
OES KEY ACHIEVEMENTS IN 2016
The OES held two ExCo Meetings in 2016: The 30th and 31st meetings were convened in Gothenburg, Sweden (9 – 10 May
2016), and Singapore (10 - 11 November 2016). By late 2016, eleven research projects (Tasks) were established within the
OES programme, of which nine are currently operational:

TASK 4 Assessment of Environmental Effects and Monitoring Efforts for Ocean Wave, Tidal and Current Energy Systems (Annex IV) - providing access to knowledge and information related to research, monitoring, and evaluation of environmental effects of offshore renewable energy.
A State-of-the-Science of environmental impacts of marine renewable energy report was published in 2016. Tethys, the online knowledge management system, continued to expand and to increase user interactions. In addition, 4 environmental webinars, 2 online expert forums and 2 workshops were organised during the year.

TASK 5 The Exchange and Assessment of Ocean Energy Device Project Information and Experience (Annex V) - promoting the sharing, interchange, evaluation, and compilation of information on OES projects from participating member countries.

A Workshop on Ocean Energy Policies was organized by the U.S. Department of Energy and hosted by the Swedish Energy Agency in Sweden on 12 May 2016.

TASK 6 Worldwide Web GIS Database for Ocean Energy – interactive web based GIS mapping application with detailed global information related to ocean energy.

Information has been continuously updated on ocean energy facilities, resources, relevant infrastructure, in conjunction with the respective location on a global map.

TASK 7 Cost of Energy Assessment for Wave, Tidal and OTEC – to deliver the assessment of a credible levelised cost of electricity (LCOE) based on international projects, and the likely future LCOE reduction trajectories of ocean energy projects at a global scale.

The final report of this study was published in 2015, providing an authoritative view on what cost reductions are feasible at a global level, taking into account the experience from other technologies, and further examining opportunities for cost reduction. In 2016, the ExCo agreed to keep this task open and prepare the Terms of Reference to update the LCOE report, in 2017.

TASK 8 Consenting Processes for Ocean Energy on OES member countries – with inputs from all OES member countries, providing a coherent overview of several aspects of the consenting processes, addressing Marine Spatial Planning policies and site selection for ocean energy development, regulatory issues, environmental impact assessment requirements, consultation and challenges to the consenting process.

A report "Consenting Processes for Ocean Energy: Update on Barriers and Recommendations" was published in 2016 with 10 recommendations.

TASK 9 International Ocean Energy Technology Roadmap – with the overall objective to develop a roadmap aiming to achieve LCOE targets within the ocean energy sector with a special focus on two key areas: Reliability Improvement and Performance Improvement.

An International Vision for Ocean Energy was prepared in 2016 to be launched in early 2017.

Task 10 Wave Energy Modelling Verification and Validation – to verify and validate numerical models used in the design and power production evaluation from Wave Energy Converters.

A first workshop was organised and a work plan was agreed among the 18 participants.

Task 11 Investigation and Evaluation of OTEC Resource - to promote dissemination and demonstration of OTEC by assessing the resource potential and the state-of-the-art of technology.

Two sub-groups were created lead respectively by China and Korea to develop a Task on resource assessment and state-of-the-art of OTEC technology.

The OES has been continuously interacting with the IEA and with other international organizations and networks, including INORE, OECD, IRENA, IEC-TC 114, European Energy Research Alliance (EERA) Ocean Energy Joint Programme, OCEANERA-NET and Ocean Energy Forum.
In 2016, a Discussion Paper examining the prospects and potential of the ocean energy sector was prepared, in the scope of the OES contribution to the OECD project on the Future of the Ocean Economy.
The OES was present in 5 relevant international events: the Bali Clean Energy Forum, co-hosted by the IEA and the Indonesian Government, the Asian Wave and Tidal Energy Conference in Singapore, and three conferences in Latin America (Colombia, Chile and Argentina).
OCEAN ENERGY POLICY IN MEMBER COUNTRIES
Ocean energy is promoted by governments as a renewable source of energy that will help to tackle climate change and contribute to energy security. OES member countries are developing specific strategies and plans for ocean energy and committing national funding for ocean energy research, development and deployment (RD&D).

TABLE 1: POLICY SUPPORT MECHANISMS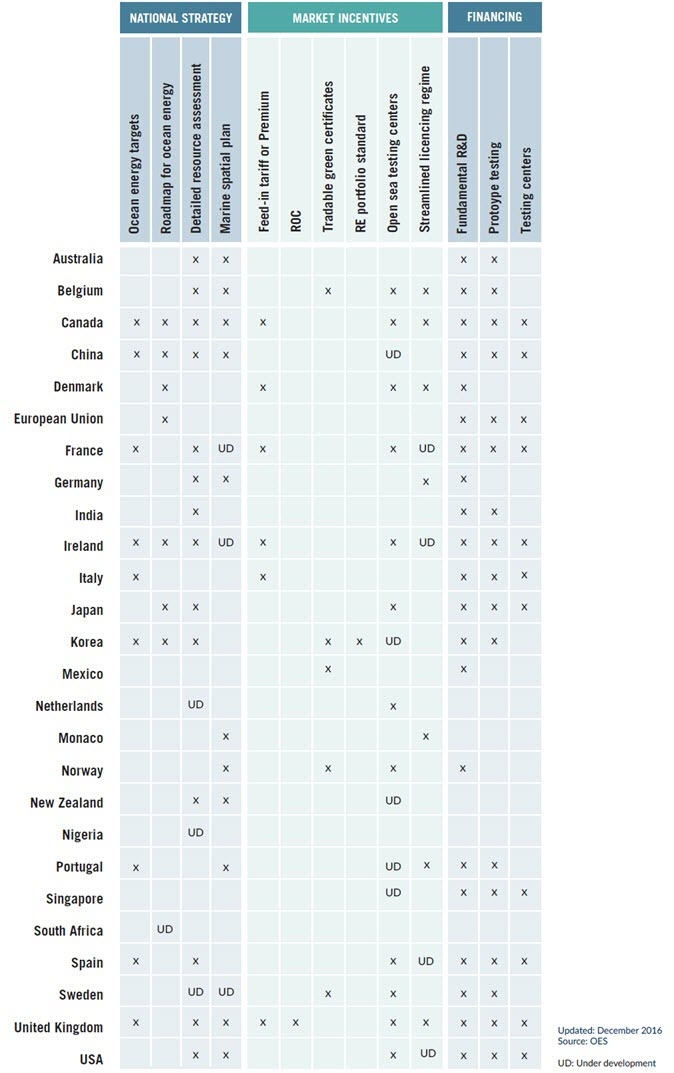 The year 2016 witnessed relevant governmental initiatives around the world:
In the United States, the Department of Energy (DOE) has been actively involved in the preparation of a National Strategy for Marine and Hydrokinetic energy. Stakeholders were invited to give feedback on it by the end of 2016. One of the goals of the plan is to support research to reduce deployment barriers and to accelerate project permitting processes. In 2016, the total governmental funding for ocean energy amounted to $44.3 million, of which $27.3 million were allocated to new calls for ocean (and river) energy RD&D projects, addressing key technical and market barriers to commercial deployment in USA. In December 2016, up to $40 million was awarded to develop an open-water, grid-connected national wave energy testing facility in Newport, Oregon, by the Northwest National Marine Renewable Energy Center at Oregon State University. The development of comprehensive testing infrastructures is a strategic imperative for the DOE Water Power Program to successfully address sector challenges. Further, the outcomes of the Wave Energy Prize, a public prize challenge also sponsored by the DOE Program, were announced in late 2016: AquaHarmonics, CalWave Power Technologies and Waveswing America were awarded first, second and third place, respectively.

The Government of Canada has been supporting advancements of a legislative framework for offshore renewable energy which have included a broad stakeholder engagement in 2016 conducted by Natural Resources Canada involving provincial and territorial governments, industry associations, environmental organizations and indigenous organizations. At the provincial level, Nova Scotia is getting ready to release Marine Renewable Energy Regulations, which will lead to the designation of an area for marine energy development. To date, over $50 million national public funding has been committed to marine energy since 2010; Nova Scotia has directly invested in the FORCE development initiative through a contribution of $11 million, in addition to the support for a number of strategic research projects in marine energy.

Mexico reached, in 2016, the final agreements for the creation of the Mexican Centre for Innovation on Ocean Energy (CEMIE-Ocean). This initiative is seen as a collaborative effort between the government, academia and industry in scientific and applied research for ocean energy and training. It will formally start activities at the beginning of 2017.

In 2016, a new Action Plan for Energy (2016-2030) was released by the Chinese Government with specific goals for marine renewable energies by 2030. Also in December last year, the Government release the 13th Five-Year Plan for Renewable Energy with a target of 50 MW by 2020 for ocean energy. This plan promotes the construction of ocean energy test sites. In 2016, RMB 100 million budget were granted by SFPMRE (Special Funding Plan for Marine Renewable Energy) to support 6 projects. To date, China has committed approximately RMB 1 billion to marine renewable energy RD&D, since 2010.

The Republic of Korea has a national strategy for the development of ocean energy, approved by the Government in 2015. Its key action plan is to stimulate R&D and commercialization of ocean energy technologies. Market incentives for renewables based on the Renewable Energy Certificates (REC) policy have been implemented. In order to accelerate market development, the currently REC value for tidal current of 2.0 is under review, considering to be increased. In addition, the inclusion of wave and ocean thermal energies in REC policy has started to be discussed.

New Zealand has been developing a strategic approach to the Government's research investment in marine resources, known as "Sustainable Seas National Science Challenge". The Challenge aims to support the development of new environmentally sustainable technologies and activities that will add value to the marine economy. Two calls for proposals were launched in 2016 with a partial focus on the Blue Economy.

In Singapore, more than S$140 million public funding has been allocated for research into clean energy. Ocean renewable energy has been identified as one of the prominent alternative energies specifically towards remote coastal and islandic regions.

2016 has been another active year for the ocean energy sector in the United Kingdom. Policy in relation to tidal lagoons developed significantly during the year with a Government commissioned review of the strategic role of tidal lagoons in the UK. An innovative and unique approach to the development of wave technology has been running since 2014 by the Scottish Government - the funding technology development programme known as Wave Energy Scotland (WES): In 2016, WES committed £12 million in funding and announced 10 awards totalling £3 million for structural materials and manufacturing processes projects. Also, the Welsh Government remains in strong support of the ocean energy sector with several initiatives, in 2016, to support development of the sector.

FORESEA, one of the biggest EMEC projects started in 2016 – €11 million European programme to support open sea testing for ocean energy. Led by the European Marine Energy Centre (EMEC), the FORESEA project provides funding support to ocean energy technology developers to access Europe's world-leading ocean energy test facilities. The first call for applications was closed in September, with 10 successful ocean energy developers announced.

In Ireland, all relevant agencies and Government departments are coordinating efforts to support the development of an ocean energy industry in the country. Environment, Infrastructure and Job Creation are the tree key work streams of the national Offshore Renewable Energy Development Plan (OREDP) being implemented. 2016 saw two draft environmental guidance documents for the offshore renewable energy industry released for public consultation, aiming to ensure there is clear guidance for developers and ensuring best practices are adopted in order to develop the industry in an environmentally friendly manner. In 2016, seventeen new projects were awarded funding of the Sustainable Energy Authority of Ireland's Prototype Development Fund, including physical tank testing of early stage wave energy concepts.

In Spain, a specific strategy for ocean energy has been defined in one region, the Basque Country: 60 MW for ocean energy by 2030 is the target approved by the Basque Government in 2016 in its Energy Strategy for 2030.

Portugal created an Inter-Ministerial Working Group, called 'Energy at Sea', with the mission of discussing a strategy to develop offshore marine energy in Portugal. The first output of this group was a roadmap for the industrial development of marine renewable energies (waves and offshore wind) approved by the Government and released by the end of the year.

Two calls for tenders for commercial arrays (tidal current and floating wind) have been announced in France to be opened by the 1st semester of 2017. Also newly awarded funds by the national funding agency, ADEME, for river turbine arrays have been announced in 2016. France opened a consultation for its Marine Spatial Planning (MSP) during the year and dedicated sites for ocean energy projects are now being identified.

The North Sea Spatial Agenda developed in The Netherlands indicates a potential of up to 2000 MW of tidal current and wave energy to be possible, if techniques are developed further to fit the Dutch conditions (relatively low tidal heads and speeds).

In Norway, wave energy was mentioned in the White Paper on energy policy published by the Government in 2016.

Since 2015, a national maritime strategy is in place in Sweden with identified areas where actions are needed to promote a sustainable development in the Swedish maritime sector. Ocean energy is one of these areas addressed in the plan. The Swedish Energy Agency is running a national ocean energy programme with a total budget of around €5,7 million for four years. A total of 16 projects have already been approved.
PROGRESS ON OPEN SEA TESTING
2016 saw many positive developments in ocean energy projects worldwide. Elsewhere, notable projects have come into construction, deployment and testing over 2016:
THE UNITED STATES
In the United States significant investments and efforts were done in 2016 toward realizing commercial ocean energy technology. U.S. has a number of initiatives going on related with several testing facilities: The Pacific Marine Energy Center (PMEC), consisting of two operational test sites - the North Energy Test Site (NETS), off the coast of Newport, Oregon, and Lake Washington in Seattle, Washington – have both been operated by the Northwest National Marine Renewable Energy Center at Oregon State University. They are now progressing with the development of a full scale, open-ocean, grid-connected wave energy test facility that has already granted funding for its design, permit and construction. The Southeast National Marine Renewable Energy Center (SNMREC), an Ocean Current Test Facility operated by Florida Atlantic University, is working to advance research in open-ocean current systems. The Hawaii National Marine Renewable Energy Center (HINMREC), a Wave Test Facility and Ocean Thermal Energy Conversion (OTEC), is supporting the Navy in the operation of the Navy's Wave Energy Test Site (WETS) operated by the U.S. Naval Facilities Engineering Command. Several other developments are taking place in testing facilities in North Carolina, New Hampshire and Maine.
Among recent developments is the successful construction and test of one of the world's largest magnetically geared generators for direct-drive applications by ABB. Several other projects are moving ahead:
Columbia Power Technologies, Inc., (CPwr) has commenced dry testing of the commercial scale PTO at NREL;
Fred Olsen wave energy converter - the BOLT Lifesaver - has successfully been tested at the Navy's Wave Energy Test Site since its deployment in March 2016;
Ocean Energy USA is progressing to initiate tests in 2017 at the Navy's Wave Energy Test Site;
The Azura wave energy device has been testing a half scale device for 19 months since 2015 and will now progress to full scale;
Columbia Power Technologies, after 10 years of development effort, will be deploying a new improved wave energy device at sea;
Verdant Power continues prior work on cost-effective O&M procedures;
Igiugig Village, Alaska, has partnered with Ocean Renewable Power Company (ORPC) to develop the RivGen Power System, a submerged cross-flow river current turbine system;
Resolute Marine Energy has been working on the development of control systems for Oscillating Wave Surge Converters (OWSC), with plans to deploy a full scale system at Camp Rilea, Oregon.
CANADA
2016 marked a significant event for FORCE when Cape Sharp Tidal, a berth holder at FORCE, installed their first 2 MW turbine and completed the subsea cable connection in early November 2016. This turbine is now generating electricity for Nova Scotia. Another 20 MW of in-stream tidal energy deployments are planned to be deployed in the next two years at the FORCE site: Cape Sharp Tidal Venture (2 MW), Black Rock Tidal Power (5 MW), Minas Tidal Limited Partnership (4 MW), Atlantis Operations Canada (4.5 MW) and DP Marine Energy (4.5 MW).
The 20 MW Annapolis Royal tidal barrage power plant from 1984 continues to operate today. Other projects in Canada have achieved significant milestones during the year:
Water Wall Turbine deployed 500 kW in-stream tidal turbine at Dent Island, BC, in June 2016;
Idénergie tested 6 river hydrokinetic turbines in 2016, in British Columbia;
Mermaid Power Corporation deployed its Neptune wave energy device on Keats Island, in early September 2016;
New Energy Corp. has been working in Manitoba to supply a 25 kW EnviroGen Power Generation System;
Mavi Innovations will be deploying a floating tidal turbine at Blind Channel Resort and Marina is scheduled for spring 2017;
Mermaid Power Corporation has been introducing modifications for a new device, Neptune 4, targeted for deployment in summer 2017;
Yourbrook Energy Systems launched a pilot project in Haida Gwaii in the Juskatla Narrows of Masset Inlet;
Big Moon Power successfully completed the test of their Kinetic Keel technology in the upper Bay of Fundy and are now planning their next steps.
MEXICO
A new wave energy device is being developed in Mexico as the result of the collaboration between industry and academia. The device is expected to be deployed close to the facilities of the port El Sauzal, Baja California, and laboratory experiments will be conducted during 2017.
CHINA
In 2016, there was good progress with the development of their three national test sites: the small scale test site in Weihai Shandong province, the tidal energy full scale test site in Zhoushan, Zhejiang Province, and a wave energy full scale test site in Wanshan, Guangdong Province.
Several projects in China have shown good progress:
The platform of the LHD Tidal current energy demonstration was deployed near the Xiushan Island in March 2016. This platform plans to accommodate 7 turbines with installed capacity of 3400 kW, 3 of which have already been installed (#1 turbine: 400 kW, #2 turbine: 600 kW) and connected to the grid;
The 120 KW turbine, installed by Zhejiang University (ZJU) near the Zhairuoshan Island, has been operating since 2015 and has accumulated over 30 MWh. New turbines are planned to be installed in 2017;
The hybrid project (wave, wind, bioenergy and solar energy), which includes a 300 kW, wave energy device has been approved by SOA;
A number of other R&D tidal current and wave energy projects were tested in 2016, with the support of SFPMRE and lead by Chinese Universities. One of these projects, the 100 KW prototype of Sharp Eagle Wanshan deployed in Wanshan Islands since November 2015 has accumulated over 30 MWh till June 2016;
An OTEC plant was installed in 2016 with governmental support.
REPUBLIC OF KOREA
Korea has been conducting an R&D project led by KRISO aiming to develop a 10 MW wave and offshore wind hybrid power generation system for deep ocean, involving 15 universities and research institutes and 10 industrial companies, funded by the Korean Government. Another R&D project supported by the Government was initiated in 2016: the development of an integrated energy storage system and wave energy converters, applicable to breakwaters in remote harbours. The research and development project of a 1 MW arrayed-buoy wave energy converter, using the "Salter's duck" concept, started in December 2016 and is expected to be ended by 2020 with sea trials near Jeju Island.
2016 saw relevant achievements in Korea:
The construction of the 500 kW Yongsoo OWC Pilot Plant, 1.5 km Offshore Jeju Island was completed in July 2016 and has been operational since then;
INWave Onshore-Based wave energy plant developed by INGINE was deployed is the sea in close proximity to the shoreline. Since the installation of its first 135 KW pilot plant on Jeju Island, in late 2015, the plant has been in operation, connected to the grid;
The "30 KW Heaving Semi-spheres with Hinged Arm Wave Energy Converter Platform" project conducted by Hwa Jin Co., was successfully concluded in 2016, with the installation of the prototype near Hupo-hang in the East Sea;
An Active-controlled Tidal Current Power Generation System (200 kW) was manufactured and is expected be deployed in 2017;
Since 2012, the development project for the 300 KW Floating Pendulum Wave Energy Converter has been carried out by KRISO with the support from MOF. In 2016, its construction was completed and it is planned to be tested at the open sea test centre of Jeju in 2018;
20 KW OTEC and 200KW HOTEC plants are in operation and conducting the performance test at the Sea Water Utilization Plant Research Centre (SUPRC), in Gangwon-do Goseoung-gun. For the commercialization phase, KRISO is in charge of manufacturing a 1 MW OTEC demonstration plant, which is expected to be completed in 2018 and after tests transferred to Tarawa, Kiribati, in 2019.
INDIA
India continues the development of two types of floating wave energy devices, namely the backward bent ducted buoy (BBDB) and a wave powered navigational buoy. This second prototype will be tested offshore Chennai. Design of an OTEC powered desalination plant in Kavaratti, in the Union Territory of Lakshadweep, has commenced and scheduled completion is 30 months. India is also involved in the development of low temperature thermal desalination plants. The marine hydrokinetic turbines for Indian waters have low speeds and medium range torques and NIOT has been developing expertise to deliver products for these particular conditions.
SINGAPORE
2016 was seen as a successful year in Singapore with completion of different projects and a stronger regional commitment towards more innovative and effective means of fully utilising ocean energy sources towards tropical remote regional needs. Among these initiatives is the Renewable Energy Integration Demonstrator-Singapore (REIDS) project aiming to power an island in the south of Singapore only through renewables, including ocean energy. This project, led by the Nanyang Technological University (NTU) and supported by the Singapore Economic Development Board (EDB) and National Environment Agency (NEA), is expected to be completed by December 2017.
NEW ZEALAND
The New Zealand Marine Energy Centre ("NZMEC"), to be located in the Wellington region, is currently on-hold awaiting investment. It will aim to provide ocean based pre-commercial scale testing services for wave and tidal energy device developers.
The initial technology development, called Wave Energy Technology New Zealand or WET-NZ, conducted in New Zealand by Callaghan Innovation (formerly Industrial Research Limited), completed a year's worth of testing in 2016 at the U.S. Navy's Wave Energy Test Site at the Marine Corps Base Hawai'i and it is now preparing for a grid connection.
UK
The year 2016 closed with some remarkable progress for ocean energy in UK:
Nova Innovation began exporting power to the grid with its first two turbines off the coast of Shetland Isles, with plans to further develop the Shetland array in 2017;
The MeyGen array, operated by Atlantis Resources in Scotland's Pentland Firth, made significant construction progress in 2016 for phase 1A of the project (4 turbines, 6 MW);
Carnegie Clean Energy have entered an agreement to install a 15 MW array of the CETO 6 wave energy converter at the Wave Hub site;
Scotrenewables has begun testing a floating tidal turbine at EMEC and is applying for consent to deploy a 10 MW array in Orkney.
Several developers - including CorPower, Laminaria, Tocardo Tidal Power and Nautricity - are progressing with demonstration projects expected to be tested at EMEC in the course of 2017. Tidal Lagoon Power Ltd. have plans to construct a 320 MW capacity tidal lagoon scheme in Swansea Bay, Wales; the Consent was awarded in 2015 and the construction is expected for 2018.
IRELAND
2016 has seen good progress with some flagship projects developed by Irish companies:
SeaPower Ltd. developing a wave attenuator called the SeaPower Platform tested a device at the quarter scaled Galway Bay test site in November 2016;
GKinetic Ltd. has been developing a submerged tidal energy device which was tested at 1:10 scale in Limerick Docks and is planned to be re-deploy in 2017;
ESB's WestWave 5 MW wave energy project to be deployed on the west coast of Ireland, near Killard is progressing with field activities to secure the required permits.
FRANCE
Two test sites in France are fully operational: SEM-REV for testing wave and offshore wind projects and SEENEOH, an original estuarine tidal test site for full scale river and intermediate scale ocean tidal devices.
Operational projects in France and planned deployments include:
The tidal range barrage of 240 MW of the Rance river, running since 1966;
Sabella, the first and currently only marine tidal turbine to have provided electricity to the French electricity grid, has completed a series of tests in Quessant and qualified for the ICE project (Interreg trans-English Channel Brittany/Cornwall) for the use of the D10 tidal turbine for 2 to 3 years in the Fromveur current (Brittany);
Hydroquest Hydroquest River 1.40 is the only grid-connected fluvial hydrokinetic turbine in operation in France. Projects are currently underway also in Africa, Asia and South America;
Guinard Energies is progressing to deploy, in 2017, the 250 kW MegaWattBlue tidal demonstration turbine in the Ria d'Etel (South Brittany);
The Normandie Hydro tidal turbine pilot farm project, located in the Raz Blanchard tidal race, is progressing through the construction and installation stage. Planned for a 20-year period of operation, the 14 MW farm of 7 OpenHydro tidal turbines is coordinated by DCNS in cooperation with the French utility EDF;
The French utility Engie will be installing four Alstom OCEADE 18 - 1.4 MW tidal turbines in the Raz Blanchard tidal race. The on-going construction, installation and grid connection phase is preparing a 20-year exploitation of the pilot tidal turbine farm;
HYDROQUEST and CMN, together with the University of Caen Normandy, were awarded funding, in February 2016, to install a Hydroquest demonstrator turbine of 1 MW on the Paimpol-Bréhat EDF test site in autumn 2017;
France is also heavily investing in OTEC: 2 OTEC plants (respectively 10.6 and 5.6 MW) are scheduled to be operational until 2023.
MONACO
In Monaco, ocean energy activities are related with the demonstration of sea water heat pumps to generate energy. The number of sea water heat pumps is expected to increase in the near future.
SPAIN
The Mutriku wave power plant completed its first five years of continuous operation reaching, by the end of 2016, a record of cumulative energy produced from waves with more than 1.3 GWh injected into the power grid. Also in the Basque Country, the Biscay Marine Energy Platform (BiMEP) open sea test centre promoted by EVE and IDAE, has been in operation since its inauguration in July 2015.
In 2016 several Spanish projects achieved good milestones:
The so called MARMOK-A-5 device, developed by OCEANTEC, was deployed in October at BiMEP and grid connected, delivering the first kWh in December. This is the first floating wave energy device connected to the grid in Spain;
An offshore platform was installed at PLOCAN on the Canary Islands, which together with the electrical infrastructure expected in early 2017 will allow PLOCAN to be fully operational in 2017;
The wave energy device prototype developed by Wedge has been tested at PLOCAN site;
Rotary Wave developed a 1:4 scale device to demonstrate its Butterfly technology in the Mediterranean Sea.
PORTUGAL
In 2016, there were two active developers in Portugal: AW-Energy from Finland and Bombora Wave Power from Australia. Bombora has been taking the first steps, preparing the documentation to apply for the licence of a first prototype In Portugal; AW-Energy has been working with Portuguese authorities to license the first-of-a-kind commercial scale device expected to be built and deployed during the spring/summer of 2017, with funding from the InnovFin Energy Demo Project, an innovative, sectoral debt facility which aims to support projects that are commercially promising, but are deemed technologically risky. Simultaneously, AW-Energy has also started to plan their first wave energy park in Peniche - the project called "Ondas de Peniche" winner of the NER 300. Pico OWC plant in Azores produced over 39 MWh in 2016.
ITALY
The Italian company Enel Green Power with DCNS from France have been selected by the Chilean Government's economic development organization CORFO (Corporación de Fomento de la Producción) to set up a centre of marine energy R&D excellence in Chile, named Marine Energy Research and Innovation Centre (MERIC).
In Italy, a number of successful projects were active in 2016:
The first full scale prototype (100 kW) of GEM, "the Ocean's Kite" turbine built by a consortium of Venetian companies, has been deployed in the Venice Lagoon. The next step will be the development and deployment of a 200 kW in the Strait of Messina;
A new prototype of the "Kobold Turbine" was built (120-150 kW) and will be placed on the Lomboc Island (east of Bali);
Enel Green Power has bought the H24 wave energy device from the Italian company 40South Energy and will support the development and commercialisation of the technology;
Enel Green Power is evaluating an onshore OWC system, a caisson breakwater plant, called REWEC (Resonant Wave Energy Converter) built in Civitavecchia Port;
The wave energy device called ISWEC has been tested since 2015 on Pantelleria Island;
The Italian manufacturing company Umbra initiated collaboration with the French start-up EEL Energy, which has been developing an innovative tidal energy device with a flexible membrane actuated by tidal currents; first test campaigns are scheduled for 2017.
BELGIUM
The Flemish wave energy developer Laminaria is planning a deployment at the EMEC test site in Orkney, Scotland in 2017 (LAMWEC project).
DENMARK
The DanWEC wave energy test site was very active in 2016 with two Danish companies Wavepiston and Resen Waves and the German wave energy system NEMOS. Another two devices - Weptos and CrestWing - are making progress to test their devices in 2017 in Denmark.
THE NETHERLANDS
REDstack, a salinity plant in The Netherlands, was rewarded in 2016 as one of the three 'National Icons'. Also, during the year several activities with tidal current projects have been progressing. The 1.25 MW tidal power plant in the Eastern Scheldt, installed by the end of 2015, performed very well during the year.
In the OTEC 2016 symposium in Amsterdam, organised by the Dutch company BlueRise, a Memorandum of Understanding (MoU) was signed between the Dutch Marine Energy Centre (DMEC), the Dutch Energy from Water Association (EWA) and the Ocean Energy Association of Japan.
GERMANY
In Germany there is no ocean energy deployment or testing activity in the sea, however around 15 R&D institutes and universities and a number of companies are active in ocean energy:
SCHOTTEL HYDRO is developing a prototype of the semi-submersible tidal power platform "TRITON", scheduled to be deployed at the FORCE tidal research centre at the Bay of Fundy, Canada;
ANDRITZ HYDRO delivered three turbines to MeyGen project;
Bosch Rexroth has been developing electro-active polymers for power generation and published a final report in 2016;
The NEMOS GmbH has been testing a 1:5 scale wave energy device at the Nissum Bredning Test Station in Denmark;
SINN Power GmbH has been tested their first wave power module at the Port of Heraklion, Greece.
NORWAY
In Norway, two prototypes were deployed during 2016: the 250 kW Deep River pilot project and the Tide Tec scaled turbine prototype by Tidetec AS. A number of Norwegian companies are planning deployments to take place during 2017.
Runde Environmental Centre (REC), located on Runde Island on the Norwegian west coast, was active in 2016 with the testing of the Swedish developer Waves4power. This project is now being upgraded to be re-deployed before the end of 2017.

SWEDEN
The Lysekil wave energy research test site at the west coast of Sweden has been grid connected since November 2015; at the Lysekil site, preparations have been made during 2016 for next year´s grid connection of three wave energy converters.
Two other projects deployed in Sweden have been operational: the Söderfors marine current project and the Sotenäs project. At Söderfors site, the turbine blades were changed in 2016 and the vertical marine current converter was grid connected. The Sotenäs Project was initiated in November 2011 and 36 wave energy converters (corresponding to 3 MW) have been deployed along with the subsea generator switchgear. The wave power plant was initially grid connected in January 2016. This project is funded by the Swedish Energy Agency, the power company Fortum and by Seabased Industry AB.
Waves4Power is a Swedish company demonstrating a full scale wave power device at sea, in Runde, in Norway. A few other deployments from Swedish companies are planned to take place outside Sweden: Minesto developing Deep Green for low-velocity tidal and ocean currents; CorPower Ocean at EMEC; Seabased signed a contract for a wave energy park in Ghana, which is under installation.