OPEN SEA TEST SITES
Canada is fortunate to have plentiful resources available in Tidal Currents, River currents, and wave energy across the country. As such, Canada has test sites available for each of these areas outlined below:
TIDAL CURRENT TURBINE TEST SITE
The Fundy Ocean Research Centre for Energy (FORCE) is Canada's leading research centre for in-stream tidal energy, located in the Bay of Fundy, Nova Scotia. FORCE works with developers, regulators, and researchers to study the potential for tidal turbines to operate within the Bay of Fundy. FORCE provides five berths to host technology developers with electrical infrastructure in place to deliver power to the grid. FORCE's location in the Minas Passage in the Bay of Fundy, boasts 7,000 MW of energy potential, where an estimated 2,500 MW can be safely extracted without significant effects.
There is a peak surface speed of 5 m/s, and a 13 m tidal range. The five berths have been awarded and have received Feed-in Tariff approvals from the province, totalling 22 MW to be developed at FORCE.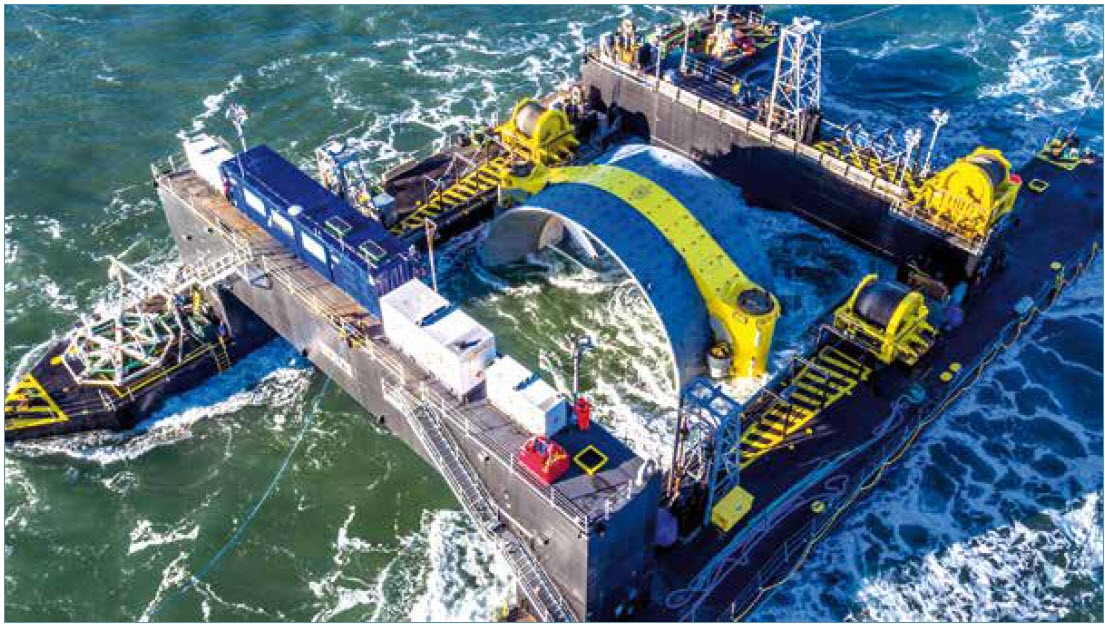 Cape Sharp Tidal turbine (2.0 MW) being deployed at FORCE site
2016 marked a significant event for FORCE when Cape Sharp Tidal, a berth holder at FORCE, installed their first 2 MW turbine and completed a successful subsea cable connection to the provincial electrical grid in early November 2016. This turbine is now generating electricity for Nova Scotia. The second Cape Sharp turbine is scheduled to be deployed in the Spring 2017.
Black Rock Tidal Power is aiming to deploy two full scaled semi-submersible platforms, which will host an array of Schottel Hydro turbines, generating up to 2.5 MW of power per platform. Black Rock Tidal Power, a berth holder at the FORCE site, is scheduled to begin installation of their first device in 2017. Minas Tidal Limited Partnership (Minas Tidal) is now the berth holder at the FORCE test site after Minas Energy, who previously held the berth, transferred the berth assignment to the new partnership in the summer of 2016. Minas Tidal is composed of International Marine Energy and Tocardo Tidal Power. Minas Tidal plans to deploy three Tocardo semi-submersible platforms at the FORCE site, outfitted with five 250 kW bi-directional turbine generators for a total of 1.25 MW per floating platform. Minas Tidal plans to begin the first platform deployment in 2017.
Atlantis Operations Canada and DP Energy have also received project approval from the Province and plan to deploy in-stream tidal energy technologies totalling 4.5 MW each, at the FORCE site by 2018.

RIVER HYDROKINETIC TURBINE TEST SITE
The Canadian Hydrokinetic Turbine Test Centre (CHTTC) in Manitoba, is operating using dedicated infrastructure on the Winnipeg River to test river hydrokinetic energy technologies. This facility is managed by team from University of Manitoba. The site is available to all Canadian and international companies developing hydrokinetic technologies focused on advancing and de-risking their technology. In 2016, CHTTC worked with Mavi Innovations, New Energy, and Gem Holdings to test their turbines on the Winnipeg River.
A flow measurement campaign was undertaken to characterize the velocity and turbulence profiles at the CHTTC. This will help to enhance the growth of river hydrokinetic energy industry technologies. The procedures developed at the CHTTC were applied to simultaneously operate a vertical ADCP, a horizontal ADCP and position an ADV within the water column.
To further advance river hydrokinetic technologies and to address Canadian Labour Code requirements, the CHTTC documented its river hydrokinetic turbine procedures. The CHTTC is working towards having the expertise within a commercial setting to apply the International Electrotechnical Committee's TC-114 standards (for Marine and river hydrokinetic energy) and provide manufacturers certification of their hydrokinetic turbines.

WAVE ENERGY CONVERTER TEST SITE
The College of the North Atlantic (CNA) operates the Wave Energy Research Centre (WERC) in Lord's Cove on the south coast of the island of Newfoundland. The Centre was established to conduct research in the development of a wave-powered water pump coupled to a novel shore-based aquaculture system. CNA has also installed and commissioned instrumentation to characterize the weather and wave conditions at the site, and completed bathymetric mapping of the area. Currently, there are six fully permitted mooring sites (at depths of 6 to 30 m) available within 1.5 km from shore. The site has collected more than three years of weather and wave environment data. With a dedicated wharf and slipway, the site is ideal for the testing and demonstration of wave energy converters and other surface and sub-surface structures in an energetic near-shore environment as well as the development of associated instrumentation and sensor systems.
The CNA has completed scaled model testing and expects to deploy a full scale prototype in 2017. This 10 ton wave energy converter is designed as a robust, low technology point absorber conceived to deliver a high volume of water to shore. The water can be used in industrial, aquacultural and electrical generation applications.
OPERATIONAL PROJECTS
The 20 MW Annapolis Royal tidal barrage power plant was commissioned in 1984 and continues to operate today. It is owned and operated by Nova Scotia Power (a subsidiary of the utility company EMERA). Annapolis Royal is the only commercial tidal power plant in North America.
Cape Sharp Tidal Venture installed the first of their two turbines into the Bay of Fundy at the FORCE site in Nova Scotia. The 2.0 MW turbine was installed and connected to the Nova Scotia electricity grid in November 2016.
Mermaid Power Corporation deployed its Neptune 3 wave energy device at Keats Island in December 2015 and was followed by Neptune 3A deployment in early September 2016.
Idénergie installed 6 river hydrokinetic turbines in 2016 to national parks in British Columbia and National parks.

The turbines were installed for seasonal purposes and were removed for the winter.

In 2017, additional 5 river hydrokinetic turbines will be installed in various Parks Canada site across Canada at approximately 0.5 kW nameplate capacity.





Idénergie turbine ready for deployment




Water Wall Turbine deployed 500 kW full size in-stream tidal demonstration turbine at Dent Island, BC in June 2016. Microgrid optimization utilized integrating the diesel gensets, turbine, and a Tesla energy storage system.

The unit has been removed from the site with plans to redeploy in 2017.

Many Canadian technology developers have also been working with international partners and have deployed their technologies in other countries.





Water Wall Turbine deployed at Dent Island, British Columbia
PLANNED DEPLOYMENTS
In the Bay of Fundy, there are another 20 MW of instream tidal energy planned deployments at the FORCE site. There are five technology developers planning deployments between 2017 and 2018:
Cape Sharp Tidal Venture, 2.0 MW turbine in 2017;
Black Rock Tidal Power, up to 5.0 MW with deployments beginning in 2017;
Minas Tidal Limited Partnership, up to 4.0 MW with deployment beginning in late 2017;
Atlantis Operations Canada, up to 4.5 MW with deployments beginning in 2018; and DP
Marine Energy, up to 4.5 MW with deployments beginning in 2018.

New Energy Corp. has been working with a First Nations community in Manitoba to supply a 25 kW EnviroGen Power Generation System. Approval and permits are in place, installation of the system is scheduled for summer of 2017. In partnership with CHTTC and Natural Resources Canada/CanmetENERGY, this project will be fully equipped to monitor the turbine performance.
In 2017, Mavi Innovations will be deploying the Mi1 floating tidal turbine at Blind Channel Resort and Marina to offset the operator's use of diesel fuel. The turbine will be integrated into the existing diesel network, along with an additional smart diesel gen-set and battery storage. Engineering, procurement and assembly were completed in 2016 with installation scheduled for spring 2017. Mavi will work with project partners including the University of Manitoba to measure the performance and assess the feasibility of this hybrid tidal power system.
As a result of the successful deployments at Keats Island, Mermaid Power Corporation has been able to make modifications for a new device, Neptune 4, which is under design and is targeted for deployment in early summer 2017.
Yourbrook Energy Systems launched a 3-month pilot project in Haida Gwaii for a small-scale prototype of its systems (up to 80 kW) in the Juskatla Narrows of Masset Inlet. The main objective of the project is to decrease the use of diesel generation in the region by replacing it with clean energy from tidal power.
In April 2016, Big Moon Power successfully completed their test trial of their Kinetic Keel technology in the upper Bay of Fundy. Big Moon Power considers their technology to be scalable and a viable system for generating electricity from the ocean's tides. They are planning their next steps as they continue to study their technology and its ability to function in the Bay of Fundy environment.
Many Canadian technology developers have been working with international partners to export their technology for future deployments in other countries.