ACADIA TIDAL ENERGY INSTITUTE (ATEI)
Acadia Tidal Energy Institute (ATEI) out of Acadia University focuses on projects that seek to ensure tidal energy development is sustainable through risk reduction and informed decision making. Over the past year this work included the following:
Completed the Nova Scotia Tidal Energy Atlas and made available for multi-stakeholder use. The atlas is an interactive web-based mapping application that makes tidal energy related spatial information readily accessible to the public (http://tidalenergyatlas.acadiau.ca/)

Developed a hydrophone harbour porpoise click detector. Further work is underway using drifting hydrophones; this project will advance acoustic environmental sensors and software for detecting fish and marine mammals.

Completed modelling of fish-turbine encounter probabilities using data collected from fish tracking studies

Examination of fish presence and distributions at the FORCE site

Development and delivery of educational programs

Development of a Marine Renewable Energy Book in Governance,

Studies/reports covering funding and financial supports and tidal energy resource assessment.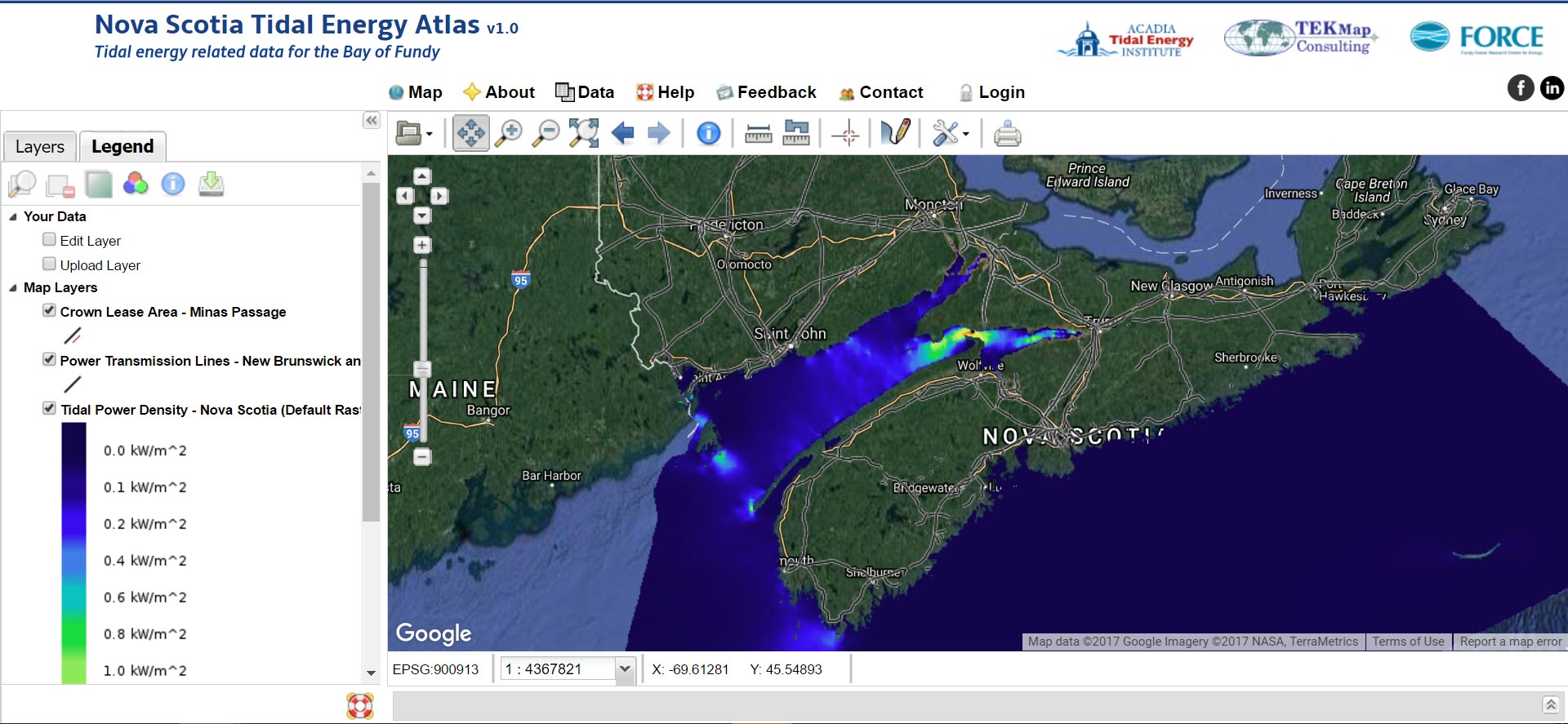 WEST COAST WAVE INITIATIVE (WCWI)
The West Coast Wave Initiative (WCWI), out of University of Victoria's Institute for Integrated Energy Systems (IESVic), continues to actively contribute to cutting edge wave research and development efforts for governments, technology and project developers across the globe. The WCWI completes high resolution wave resource assessments, detailed wave energy converter (WEC) technology simulations and both short term and long-term electrical system integration studies. The WCWI has developed and validated a high-resolution wave model of the British Columbia coast that is utilized as both on 12-year hindcast and a 48-hour forecast. The WCWI expanded its' WEC architecture and control system modelling efforts with new collaborating technology developers in Canadian Accumulated Ocean Energy and Scottish Nova Scotia Tidal Energy Atlas Trident Energy. This is addition to 2016 efforts for Resolute Marine Energy, Carnegie Wave Energy, Ocean Energy Ltd, and Seawood Designs.




West Coast Wave Iniative deplying a wave buoy and SWAN

model of the British Clumbia coastline
During 2016, the WCWI worked extensively with BC Hydro (the provincial electrical utility) to provide the necessary resource and technology inputs to ensure that the provinces long-term energy system transition planning accounted for the potential development of marine energy resources in the province. Additionally, WCWI is working closely with the BC Ministry of Energy and Mines to scope out the potential for BC to play an active role in the testing, deployment and commercialization of all marine energy technologies.
WCWI researchers continue to work closely with colleagues at Sandia National Labs, the National Renewable Energy Lab and the Pacific Northwest National Lab. The relationship revolve around the development of novel wave propagation codes to allow for the implementation of WEC farms within SWAN, to plan for future wave and tidal current measurement nodes along the western seaboard of North America and best practices in wave propagation modelling and resource characterisation respectively.

OFFSHORE ENERGY RESEARCH ASSOCIATION (OERA)
Nova Scotia's support for the demonstration of in-stream tidal energy technologies has attracted companies to the Bay of Fundy from around the world. Preparations to demonstrate tidal devices at five berths at the Fundy Ocean Research Centre for Energy (FORCE) are underway in response to government legislation, investment in FORCE, feed-in tariffs, and Sustainable Development Technology Canada grants. Any risks government can reduce through financial support, infrastructure investment, and clear policy and regulations will help incubate a sustainable industry, including the economic opportunities that come from technology innovation and supply chain expertise.
To help ensure Nova Scotia and Canada will benefit from a sustainable marine renewable energy industry over the longer term, research has been commissioned by the Department of Energy through the Offshore Energy Research Association (OERA) to identify a suite of applicable funding and financial support mechanisms used in different jurisdictions around the world, recommend a combination that may be suitable for the Nova Scotia context, and present the local entities that could administer such funding and financial supports for local tidal energy development. Work has also been underway on Environmental Effects Monitoring at the FORCE site that studies five major subject areas: fish, marine mammals, lobster, marine noise and seabirds. Various funding programs at OERA, such as their directed research, open calls and student research travel program, enables significant R&D to support the emerging tidal industry.

MARINE RENEWABLES CANADA – SUPPLIER DATABASE
To support industry growth and connect Canadian suppliers with marine renewable energy development opportunities, Marine Renewables Canada launched a Canadian Supplier Database in November 2016.'

The database is designed as a tool to connect Canada's expertise with wave, tidal, and river hydrokinetic energy development needs locally, nationally, and internationally.

The database will continue to be updated as further information becomes available on existing suppliers throughout Canada that could apply expertise and services to the marine renewable energy sector.

Marine Renewables Canada will be focusing on continuous improvements to the database, helping to ensure increased visibility for suppliers across the country.

The database can be found at:

(https://supplychain.marinerenewables.ca/)

MAP OF CLEAN ENERGY RESOURCES AND PROJECTS IN CANADA (CERP)
CERP has been launched by Natural Resources Canada showing Canada's clean energy resources and projects by province.

It allows the user to easily find Canada's renewable energy resource potential for various resources, including wind, solar, river hydrokinetic, tidal, reservoir hydro and wave energy.

The map allows the user to find clean energy test centres and government directed research, development and demonstration projects in emerging technologies.

The map can be found at: (http://atlas.gc.ca/cerp-rpep/en/)
BRITISH COLUMBIA MARINE ENERGY RESOURCE ATLAS AND RESOURCE ASSESSMENT
National Research Council (NRC) and Natural Resources Canada (NRCan) are collaborating to develop an interactive, publically available Marine Energy Resource Atlas. The atlas will provide information on wave, tidal and river hydrokinetic resources, combined with other relative socio-economic datasets. This atlas will be available to stakeholders as a decision support system in identifying and evaluating sites for prospective development. This project will also be used to estimate the potential future market penetration for marine renewables in the Province of British Columbia (BC). BC has been selected as a pilot location to develop the Atlas, and the resources will include tidal, wave and river hydrokinetic energy.

ADVANCING RIVER HYDROKINETIC ENERGY R&D
Natural Resources Canada (NRCan) has initiated a five year collaborative research project in advancing river hydrokinetic energy (RHE) with National Research Council (NRC), academia, and the marine energy industry. This project aims to develop new methodologies for identifying river locations for RHE projects, to evaluate and improve RHE systems performance, and to design technical guidelines for deployment of multiple turbines for large/utility scale projects.