OPEN SEA TEST SITES
Runde Environmental Centre (REC), located on Runde Island on the Norwegian west coast (http://www.rundecentre.no), can accommodate wave energy projects for test and demonstration at several sites. The site has a 3 km/0.5 MW sea cable to shore with grid connection. REC facilitates preparations, licensing, deployment and monitoring of the WECs, and works also on other forms of ocean energy, building national competence and capacity.

REC also hosts other subsea tests for anti-corrosion and anti-fouling. In 2016, a new bathymetric dataset, with 1x1 m resolution, was released by REC, for public use. This unique material is very useful when it comes to licensing and siting of OE devices in the area. The same applies to the wave forecasting model installed in co-operation with the Norwegian Met office.
The Swedish developer Waves4power (www.waves4power.com) deployed their WavEl floating wave energy device by an offshore vessel in February, 2016. Held by three anchors, it survived the stormy period before the summer. Now being subject to upgrades, the plant will be re-deployed before the end of 2016.

OPERATIONAL PROJECTS
Havkraft AS is a Norwegian technology company specialized in wave energy conversion. The company finalized their prototype testing of the Havkraft Wave Energy Converter (H-WEC) in real sea environment at Stad in Sogn og Fjordane, Norway, in 2015 with ground breaking results. With over 4500 controlled running hours with power production, surviving direct exposed hurricanes and documenting a "cut-in speed" on the converters at 2 kW/m, the patented technology has proven its ability to produce energy in a very broad spectrum of frequencies. The current stage is to implement the wave energy converters into offshore aquaculture, offshore wind installations and other applications worldwide. The company is headed by inventor Geir Arne Solheim, in close team with a range of highly skilled partners

PLANNED DEPLOYMENTS
Deep River has developed a mobile «plug and go» power plant which utilises the kinetic energy in rivers as well as tidal and ocean currents. A 250 kW pilot was tested in May 2016. The Deep River concept is turbine and generator on standard, container or pallet based solutions. Standardizing dimensions eases both transport and installation. The power plants are fully scalable, both in number and size of turbines. The power plants may be built with a number of different anchoring solutions, and is deliverable with buoyancy tanks.
Deep River has also developed an easily deployable "Drop & Go" power plant, weighing 100 kg. This micro plant will be able to produce from 1 kW to 20 kW, and may be hooked up through a battery-pack. The Drop & Go system is ready for a commercial market as of 2016. Deep River aims at an international market, seizing on the opportunity for: local power production, off-grid solution, energy storage and easy grid connection. The technology has been developed in close collaboration with Norwegian and international universities, as well as with international suppliers and developers.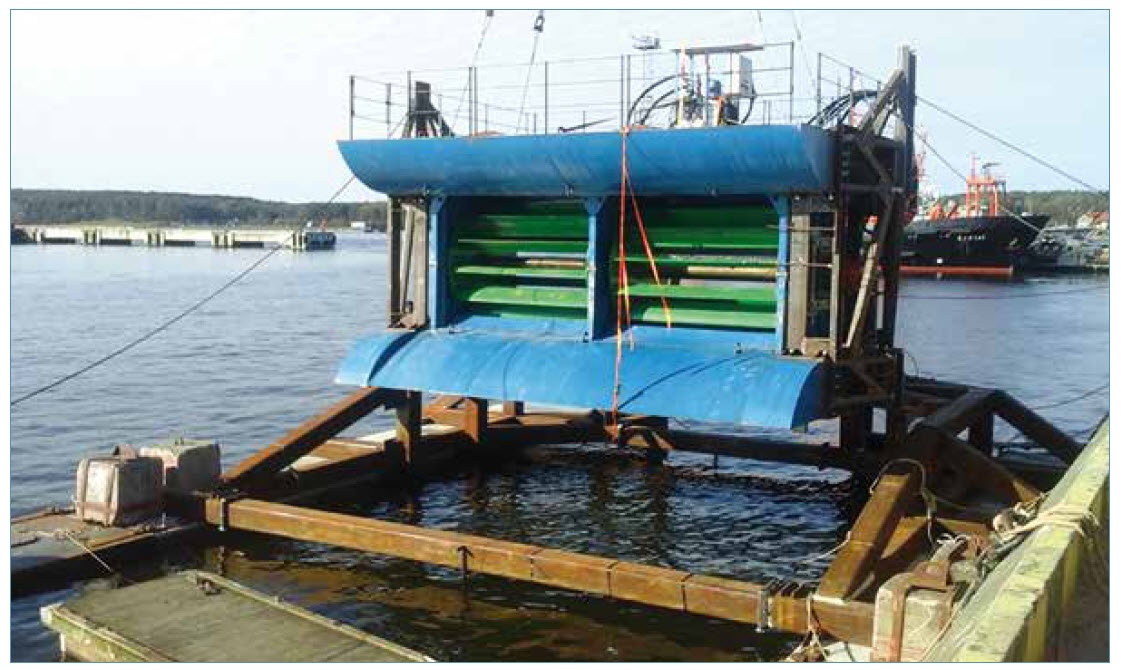 The Deep River prototype under testing in May 2016
Tidal Sails AS, an independent, privately held closed corporation based in Haugesund, Norway, develops a ground breaking technology to extract kinetic energy from slow moving water by combining the ancient principles of ocean sailing with state of the art alpine ropeway technology. Linearly moving sails have great extraction efficiency, thus dramatically reducing the cost of the electricity generation. Tidal Sails technology can be adapted to most river, ocean and tidal current locations, and is protected by several patents worldwide.
Ocean Energy AS has designed a worldwide patented wave energy plant. The technology is based on the Swedish wave company Seabased AB, but Ocean Energy has developed and patented a "Storm Buoy". The Storm Buoy can be submerged and withstand extreme waves. The solution is developed in cooperation with universities in Norway (NTNU), as well as the "Maritime Cluster" at Ulsteinvik, Sunnmøre in Western Norway. The project is supported by Innovation Norway and Ocean Energy plans to install a demonstration at Runde (www.ocean-energy.no).
Flumill is planning to deploy its first commercial scale grid connected demonstration system at the marine test centre EMEC, in the UK. The system will be rated at 2 MW and produce up to 5 MW tidal energy at the EMEC location on Orkney Islands. The system will be deployed in 2017.
Andritz Hydro Hammerfest was founded in Norway in 1997 by the local utility company Hammerfest Energy and is currently owned by Andritz Hydro and Iberdrola. Andritz Hydro Hammerfest is among the leading tidal energy technology developers in the world and is now taking the step into commercial delivery: Andritz Hydro Hammerfest is currently developing and producing three MK1 turbines (1.5 MW) for installation at the MeyGen project in Pentland Firth.
Tide Tec consists of a turret or turning mechanism, intended to house a hydro turbine. The turbine can be turned 180 degrees to get optimal efficiency of a hydro turbine in a tidal power plant.

Most tidal power plants today generate power only in one direction. Projected plants with two-way production have sub-optimal production when the water flows "backwards" into the turbine.

The solution is aimed at the tidal range market with tidal barrages and lagoons. It can also be used for active flood protection applications, or integration into existing flood protection infrastructure, such as dikes. To show the feasibility of the Tide Tec system they are currently developing a model turbine together with TUM (Technical University in Munich).

Tide Tec are planning a new fundraising in the beginning of 2017 to fund engineering of a bigger scale pilot and further prove that the Tide Tec turret can house a 20 MW turbine with a runner diameter of 7.5 meters. In October Tide Tec tendered together with Aibel for prequalification for the Churchill Barrier Project on Orkney Island.




The Tidetec system